Paradise City
Paradise City has recently been selected as one of '30 Best Dutch Book Designs 2011' (www.bestverzorgdeboeken.nl).
The book has been published by Recto Verso, Ooij (NL).
Paradise City was designed by Els Kerremans / Buro Typography Interiority & Other Serious Matters (www.typography.nl/) and printed by ANDO in The Hague (www.ando.eu); it also contains an essay by Flip Bool. Paradise City was made in an edition of 700.
You can order this book directly from Hans Bol by filling in the on-line orderform on this website.
In addition to the regular edition you have the option of ordering a Limited Edition (signed/numbered book + hand-made, signed/numbered silver gelatin print in slipcase. The Limited Edition consists of 60 copies (3 x 20 copies).
All on-line orderingoptions - and also extensive information on the book - can be found by clicking here, on the image below or in the menu under Recto Verso.
Also, the book can be bought from the booksellers mentioned on this website.
An interview with Hans Bol can be found on Photoeye's website.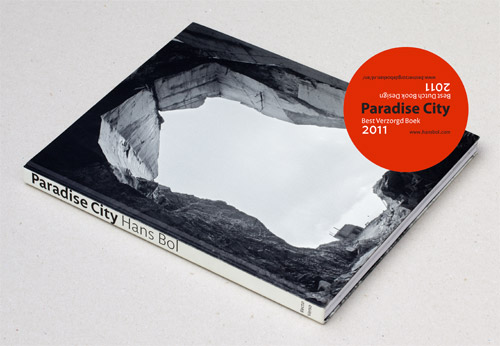 Click on the picture above to go to detailed information about Paradise City.
Hans Bol about Paradise City - a short film by Martin van den Oever
Hans Bol on Vimeo
In this short filmic impression filmmaker Martin van den Oever recorded Hans Bol at home, preparing his exhibition that recently took place in Museum Beelden aan Zee in Scheveningen, The Netherlands. The recordings were not prepared in advance and took place fully spontaneous.
---
On this website you will find an overview of the work of the Dutch photographer Hans Bol (Amsterdam, 1957).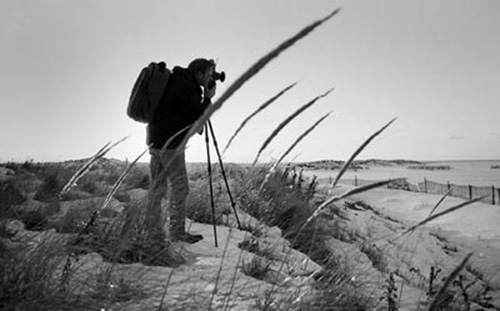 © J. Stierli
During my studies of English I started to study photography. From the moment I touched a camera in about 1980 I developed a consistent interest in the medium, often in combination with an ongoing desire to investigate large parts of the world. At first I used 35mm cameras, but soon I decided to shift to larger formats. My interest is mainly in (city/industrial) landscapes, in combination with the presence of human trace.
This interest has made me travel extensively through the stone quarries of Carrara (It.) and the vast landscapes of the United States, as well travels through India, Morocco, Jordan, Egypt, and Israel. In addition I visited and photographed the area around New York City many times. Recently, I photographed extensively in Sicily (It.) and, again, in India. On this website you'll find a limited cross-section of my photographs. Click here to go to the portfolio section.
In addition to a cross-section of my photographs, on this website you'll also find an overview of the projects I was involved in, which also mainly have to do with cities and (industrial) landscapes. Click here to go straight to the projects section.
Finally you'll find information about Recto Verso, a small, specialized publisher, and some technical information.